Our Services
Free in-home consultation
This allows us to meet you and your pets, and is required prior to services for all new clients. During this initial meeting, we will also review forms, complete and sign our service agreement. It's best to plan this a couple of weeks in advance in order to ensure service is available on the dates you desire.
Daily home visits - Dogs
This includes food and water replenishment, accident clean up, dog walking with potty breaks, brushing, play time and lots of attention and love.
Daily home visits - Cats
Services include food and water replenishment, clean cat box, brushing, play time and lots of attention and love.
Please call us at

(860) 978-7842


for pricing or
more info.
Over Night Visit
For over night visits in your home, we will provide all of our standard daily home services, in addition to retrieving your mail and newspaper, watering your plants, and keeping your home as clean as when you left it!!
Walking
If your dog needs a day break I can come by at a time that's best for you! Your best friend will thank you!! Waste bags and water included!
Pet Taxi Service
Don't have enough time to drive your pet to and from the vet or groomer? Let Wagging Tails do it for you!
Nail trimming
You know it's time for a trim if it sounds like your dog is wearing tap shoes as he walks across your kitchen floor. A trim by Wagging Tails will solve this problem, and make your dog more comfortable as well.
Yes, we provide services on holidays!
Additional home services available by request
While you're away we'll water your plants, bring in the mail and take out your trash. We'll bring your trash and recycling bins to the curb, and put them away the next day. For home security purposes, we'll alter your window shades/curtains, turn lights on/off, and bring in the newspapers and mail. We'll even turn radios or televisions on/off to give your pet a sense of companionship.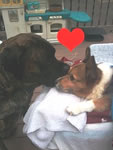 Special needs care
Extra care and attention is available for pets that have special needs. We can administer medications, including insulin, and provide walks in specialized carriages.